In 1890, King of Boinchi Hooghly in West Bengal  Raja Devanandan Mukherjee and Queen Maya Devi (Rani Mata) established Jagadhatri Durga temple along with six Shiva Lingas in Tripura Bhairavi, near Dasa-asvamedh Ghat, Varanasi. Mata Jagadhatri Durga Devi is the family deity of Maharaja Devanandan Mukherjee and Boinchi in West Bengal which holds the largest Jagadhatri festival every year. When King and Rani Mata moved to Varanasi to  continue their spiritual journey, Raja Devanandan Mukherjee had brought the Jagadhatri Devi's idol which had been made from Ashtadhatu from Boinchi.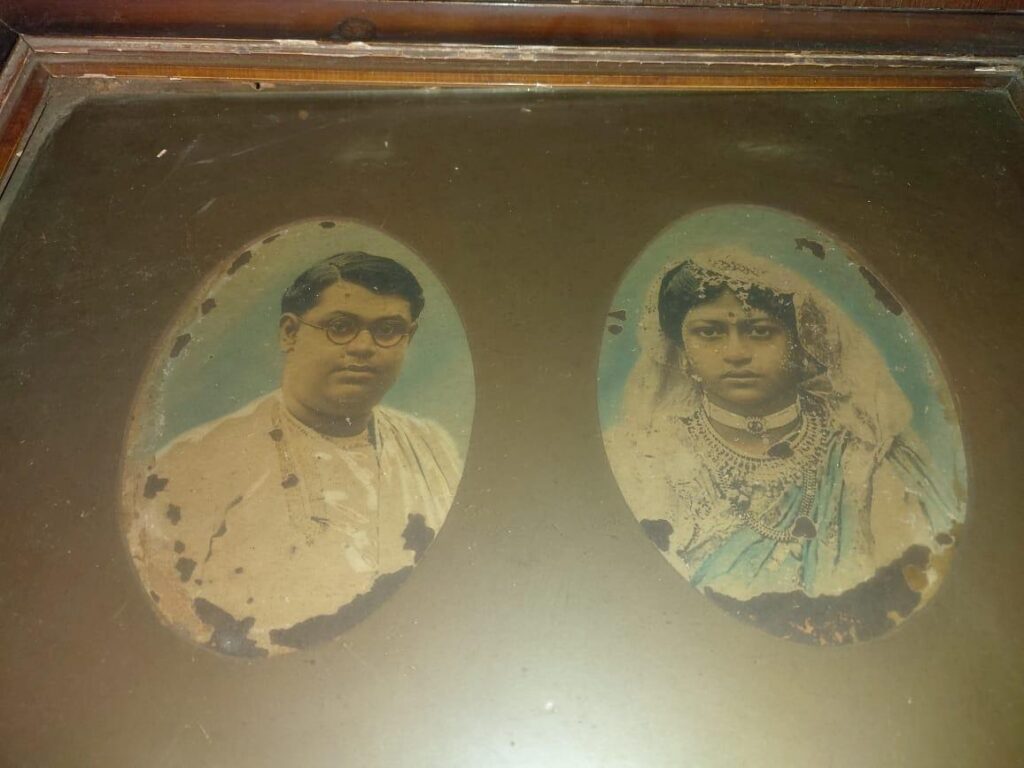 Raja Devanandan Mukherjee and Rani Mata Smt Maya Devi
King and Rani Mata personally performed the Pooja of Ma Jagadhatri Devi and lived in the house adjacent to the temple.  In 1927 King Devanandan Mukherjee ji passed away after which Queen Smt Maya Devi looked after the temple and continued the tradition of performing Poojas and looking after the deity. In 1972, Queen Smt Maya Devi ji due to her old age handed over the Temple management to Shri Prahlad Rai Khemka ji, an ardent Devi worshiper belonging to the famous Khemka family of  Varanasi. Khemka ji's family is known for their religious and  charitable contributions to society and have played an important role in preserving old Hindu Scriptures.
Jagadhatri Devi Durga Temple Pooja & Significance
Jagadhatri Devi Pooja is the oldest and one of the largest festivals after Durga Pooja in West Bengaland is the biggest festival after the Puri Jagannath Yatra in Odisha.
These three forms of the Divine Mother – Kali, Annapurani and Jagadathri Durga – represent the destruction, maintenance and pulling-out-of-delusion aspects of Paramashiva and Parashakti.
Significance of Jagadhatri Durga Devi
After the creation of goddess Durga all gods such as Indra, Varun, Vayu and others thought they were very powerful. They thought they were the almighty and could do anything with their power and forgot the real power inside them which is that of Paramashiva and Parashakti. So Adi shakti, Goddess Durga, gave them a  test. She came before them as Maya and created a blade of grass before them. She said, "Oh mighty devas please take that grass". The Gods laughed . Indra sent Vayu to take that grass out. Vayu tried hard to do so but failed. Similarly, every God one by one tried but failed. Then Goddess Adi Shakti appeared before them and taught them how every power of this universe is Her. She is the power of the whole world. All the Gods then understood their fault. Goddess Durga came before them as Goddess Jagadhatri sitting on a lion. And their ego became an Elephant. That's how we see Goddess Jagaddhatri sitting on a lion.